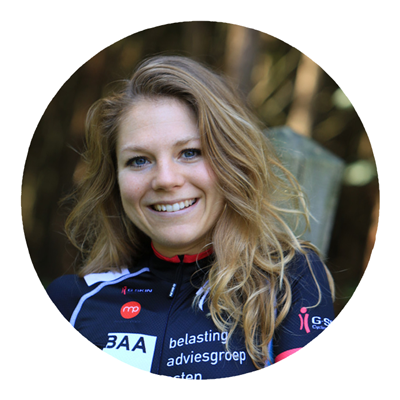 On March 28, 2020, former athlete Sanne van Paassen will give a mountain bike clinic with practical tips to sharpen your skills and mindset in preparation for the Lakebike 24 Challenge.
Sanne van Paassen is a former athlete and peak performance coach. During her cycling career, she achieved multiple podium finishes at Dutch and European championships culminating in the cyclocross World Cup in the 2010/2011 season.
Sanne believes that improving technical skills involves an important mental aspect. Therefore, during the mountain bike clinics, the mindset is key! In addition, of course, you will receive practical tips on how to work on your technical skills. Sanne always looks at the level of the group and will adjust the clinic accordingly.
Je leert:
even faster through corners
descend smoothly
spotless braking
technical live driving
Tricks you can show off with!
Maar vooral leer je:
blind faith in yourself
regain your focus
tackling your mindfucks
you cycle even more relaxed
you're going to cycle even faster!
Meedoen?
The clinic is on Saturday, March 28 from 9:00 to ±15:00 around the grounds of Aquabest. Lunch is included. Participation in the clinic costs €50. You can register for this clinic through our registration page in Step 3. (nb: registration opens on Jan. 1).
Have questions, or want to reserve a seat already? If so, please contact us at info@lakebike24.nl